Guest Blog Post by Karl O'Shaughnessy
Karl O'Shaughnessy is a UEFA Qualified Coach & Sports Professional. Karl is current Assistant Coach with 2012 FAI Women's Cup Winners Raheny United in the Women's National League and was previously Republic of Ireland U16/U17 Women's National Team Goalkeeping Coach from 2009 – 2012. Karl's website is http://www.karloshaughnessy.com and can be found on Twitter at http://twitter.com/OShaughnessyK
All Coaches Are Analysts
I always like to start any general discussions with colleagues about Sports Analysis by declaring that I am coach first and an analyst second. But that really isn't true. If you are a coach, in the truest sense of the word, then by extension you should also be an analyst. After all, a coach who isn't analysing performance really isn't a coach at all. Certainly, the last time I checked, analysis was part of the job description for any coach worth his/her salt.
As a coach, whether working at grassroots football, elite club or international level, I've always spent time analysing my team's performances through the years. During these 11 or so years the methods have certainly evolved –  from verbal analysis with coaches in the early days, to pen & pad hand notation statistical data, computer generated stats to video analysis in more recent years.
In the most recent past, I've utilised video analysis to enhance and work alongside my coaching ability. I was very fortunate to be able to learn many of the soft skills needed for the work from an excellent tutor, Rob Carroll.  Rob's guidance allowed me to understand analysis software & video manipulation which in turn allowed for the exploration of other areas of my coaching that were previously un-explored – notably the simultaneous analysis of both player and coach in training situations.
Video Training & Matches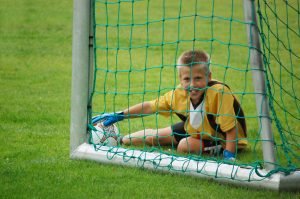 That has been the key benefit of video analysis for me. It has provided an opportunity to help players see mistakes and learn from them while allowing scope for self-criticism of my own coaching. This is the area of video analysis that I am finding more and more beneficial in recent years; the analysis of training sessions as opposed to games, particularly as I often worked with elite youth female goalkeepers in small groups.
For example, in a game that any analyst may film, our goalkeepers might have very little to do and the subsequent analysis of the game can often provide little and on occasion nothing at all for discussion – in training however, you are guaranteed a specific number of repetitions of goalkeeping skills, be that handling, dealing with crosses, positioning etc.
Each sequence of video provides an opportunity to analyse key movements in great detail which can (but not always) get over looked during a session where the coach is dealing with serving balls to players etc. Invariably with younger players there will always be areas for improvement and this process captures these moments in the safe environment of the training field.
Self Analysis
The additional bonus to this is that I can analyse my own coaching style, skill & ability via the video footage. I handle training analysis myself mostly because it's different than a game situation – its development focused i.e. mistakes are encouraged.  I try to position the camera to capture both the player actions and coaching delivery. Depending on the activity, it's not always possible to do this but in general it allows me to learn more about the type of activity I'm providing for my players and if it meets or exceeds their needs.
I'm not ashamed to say that I've been startled at some of my own personal footage from a coaching perspective. There's a simple reason for this and it's something every single coach is affected by whether they chose to believe it or not. I often use the analogy of coaching being like passing a driving test to describe it. Bad habits creep into our coaching much like bad habits creep into our driving in the weeks that pass following completion of our driver's exam. There's no doubt that video analysis of my coaching has helped me keep those habits in check and improve those areas of my coaching that may have slipped otherwise. These can only have positive outcomes for my players.
Analysis in Coach Education
It's an area I believe firmly isn't utilised enough. Coach development can undoubtedly benefit greatly from the use of video analysis. It should be an integral part of any elite coaching course. From my personal coach education experience, analysis is often introduced from a player improvement point of view (which it certainly can be) but rarely with the idea of how can help develop the coach. The learning potential from this, in my opinion, is too important to be ignored.
In essence, does it truly make sense to analyse a game in great detail and simply assume the coaching is adequate to correct the identified errors in play? For me, it's logical to review, analyse and evaluate your work in an effort to maintain standards and indeed kick on to higher targets.
Why would any coach or educator want to ignore a simple cost effective tool that could help ensure you reach your potential as a coach and in turn your players potential?
I'm extremely passionate and if truth be told a little worried about the future of coach development. The 'nod & wink' culture in coaching is stifling the game. Only when the same care, attention and objective analysis is given to coach development as other areas in Sport can we ultimately reach our peak and make exponential improvements to the game.
There is no doubt in my mind that Video Analysis could and should play a key role in achieving this.