Guest Blog Post – Emily Clark, Sports Scholary
Emily has kindly given me permission to republish an article from her site. I would encourage everyone to check out her site which you can find here. There are some excellent and insightful articles on their already and I'm sure there will be plenty more as the year progresses. This article is related to one I wrote examining the impact a change of manager has on the team. I hope you enjoy.
The impact of Kenny Dalglish, Emily Clark
As a Liverpool FC fan, when Kenny Dalglish, of whom I shall colloquially refer to as 'King Kenny', was appointed caretaker-manager in January, I was more than satisfied with the choice the club had made. Previously, I would have thought that possibly the change was a step in the wrong direction, entrusting a previous manager, however at the time it seemed that King Kenny was the right type of dominant, positive, charismatic character that Liverpool could benefit from drastically.
The above line-graph depicts Liverpool's points accumulation throughout the 2010/11 Barclay's Premier League season
Under Roy Hodgson, Liverpool did not begin the season particularly well. Each week Liverpool seemed to define the term 'unpredictable' and their inconsistent performances saw them pick up improbable defeats against the likes of Blackpool, Stoke, Newcastle and a draw at Anfield in the Carling Cup to Northampton Town.. Prior to 'King Kenny's' appointment, Liverpool were averaging 1.38 points per week, certainly not as high an average as what is expected from a European club haunted and enriched with such history.
In his first Premier League game in charge, 'King Kenny' unfortunately led 'The Reds' to defeat against, now relegated, Blackpool. Despite the loss, the Liverpool side appeared to be playing with a great deal more confidence, and seemed to take pleasure in playing creative and aesthetic football. Such football did not form a statistical impact as from his appointment on the 19th game of the season; the average points per week saw a minor increase of only 0.27 to 1.65.
If Liverpool had continued to progress at the same proportional rate prior to 'King Kenny's' appointment, they would have accumulated 52 points at the end of the season, theoretically placing them at 7th place, behind Everton. Placing behind Everton in a Premier League season is something any Liverpool fan would, undoubtedly, argue as pessimistic.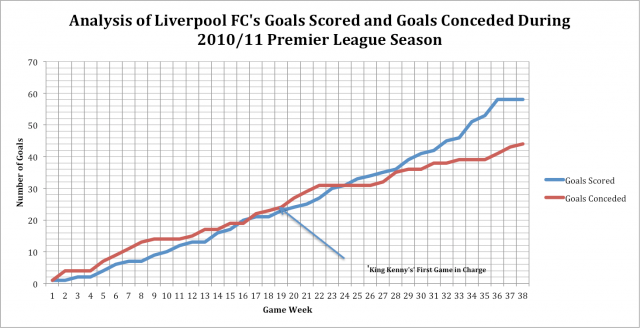 The above line-graph depicts the number of goals Liverpool scored and conceded throughout the 2010/11 Barclay's Premier League season.
Before 'King Kenny's' appointment, the Reds were netting an average of 1.16 goals a game, and conceding 1.27 goals a game on average, showing an obvious deficit in the amount of goals scored in comparison to the number of goals conceded. Following 'King Kenny's' takeover, the Red's began to score at an increase of 0.59 goals a game as their goals scored increased to 1.75. Coinciding with this statistic, the Reds began to concede on average 0.27 less goals a game, reducing their goals against to 1.
Such statistics may reflect the positive and attractive football that 'King Kenny' implemented and introduced to the Reds. Liverpool praise 'King Kenny' and acknowledge him as a 'saviour' to their season, and I myself hold with the upmost respect. Nonetheless, the statistics show that he did not, in terms of points on average accumulated each game week, increase Liverpool's performance significantly. Kenny himself has recently released a statement in the press, blaming Liverpool's poor start to the season as the primary reason behind Liverpool's uncharacteristic 6th place finish in the 2010/11 season. However, the analysis clearly shows that this impact 'King Kenny' had was not overly significant.
Never-the-less, I look forward to how Liverpool plan to spend their money during the off-season and what youth prospects King Kenny is prepared to offer a chance to. The latter half of the season saw 'King Kenny' take advantage of the local youth talent that had not been exposed to the top-flight game before, such as the likes of hard-working John Flanagan and Jonjo Shelvey. With a positive mentality accompanied by 'a bit of Dalglish cheek', Liverpool face no barriers in forcing the likes of Manchester United, Chelsea and Manchester City from the top three places in the 2011/12 season.