I attended a conference at the weekend. A now annual event where the analysts from the world of GAA get together to share best practices and generally mingle with people they spend the rest of the year trying to beat. It was a really good day filled with short talks (15-20 mins) with 10 mins for questions after each. This ensures a fast pace with plenty of time for audience interaction.
Some notes on the day;
#1
The day opened up with an address from the Director of Games of the GAA. A sign of how interested the NGB is in this small but growing discipline within the sport. Self Determination Theory was mentioned and the need to avoid being overly mechanistic when dealing with players. Something I really do think Performance Analysts need to be aware of.
#2
Denise Martin spoke about the need to land the message when we deliver and brought up some interesting research around how are brain reacts when receiving feedback. What happens when we put people on the spot? We can't shut down the prefrontal cortex if you want learning to take place.
Denise also recommend a podcast; Moving from Feedback to Feedforward and a book Feedback Fix
Also mentioned was some research carried out by Mark Copeland about players perceptions of analysis stating that 20% of players were afraid of video analysis!
We are the guardians of how analysis is delivered with in our teams. This is something I disagree with. As was shown by the player panel at the end, the majority of analysis sessions are delivered by the coaching staff, rarely by analysts. We aren't in control of too much. Not necessarily something I think should change, but this aspect does add some complexity to the the role.
#3
The length of video analysis sessions was something that came up throughout the day. Shorter = better seemed to the consensus. For me this is seems like the wrong way to approach sessions. The comparison to long form journalism was made and is apt. People might want shorter articles, maybe they are more memorable in the short term, they get shared and are more popular but does that make them better?
The length of session should be… appropriate. Maybe they need to be short because they are not engaging enough. Sometimes appropriate will be 10 minutes but other times it might not be. We would never say a training session over 30 minutes is too long. We need to look at analysis deliver in the same way. For me it's not about the length of the session it's how valuable the players find it.
#4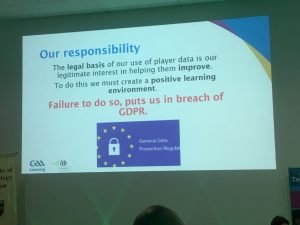 There was a really good talk on GDPR (no this is not a joke!). It answered some very specific questions specifically from a Performance Analysis perspective. A lot of credit should be given to the association for the work they have done here. Specific advice for Analysts with template agreements were supplied in our packs. Maybe this has been done around the world but great to see a proactive approach to this.
One of the conditions of collecting data on people is if "processing is necessary for the purposes of the legitimate interests" – this is where the collection of performance analysis data collection falls under. Our legitimate interest – is helping players improve. Basically if we are collecting data that's not helping players we need to be careful.