I've decided to give the best tweets of the week a miss this week and instead highlight the fact that a new issue of the International Journal of Performance Analysis in Sport is out. This journal is not free but most students or academics should have access to it. There were 25 paper published in this journal so you should check out the full journal issue here, The Journal is now on twitter and you can follow them here.
I have listed my 5 pics from this issue.
Authors: Butterworth, Andrew; O'Donoghue, Peter; Cropley, Brendan
Abstract:
Performance profiles have been developed to provide a collection of information about sports performances. The developments in the area include presentation methods for profiles and ways of interpreting performance indicator values within profiles. However, performance profiles need to be considered in the context of sports coaching. This paper presents a review of performance profiling techniques within the coaching process. The information needs of coaches attempting to manage this inherently complex process need to be served by performance analysis and performance profiles fulfil part of this role. The types of information used within coaching are reviewed before performance profiling techniques are critically examined with respect to coaching information needs. The review leads to the listing of a set of criteria for performance profiling techniques within sports coaching.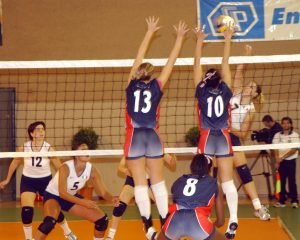 Authors: Afonso, José; Mesquita, Isabel
Abstract:
A desire to increase understanding of the mechanisms underpinning expert performance has motivated a large body of research. We examined the processes supporting skilled performance in a complex film-based volleyball task using a representative simulated environment. Participants were presented a complex, game-like volleyball task. We combined eye movement recording with immediate retrospective verbal reports of thinking in fifteen elite female volleyball players, ranked into skilled and less skilled groups. Skilled players employed longer fixations than their less skilled counterparts, and spent a greater amount of time fixating the receiver and functional spaces between two or more players. Skilled participants generated significantly more condition concepts, and presented a superior level of sophistication in their verbal reports. Data suggests that it is relevant to use tasks that simulate real-life environments. The definition of functional spaces, aiming for locations that stimulate retrieving information from more than one cue at a time, affords researchers to use eye-tracking devices to analyze peripheral vision. Based on collection of verbal reports researchers could assess if those functional spaces were relevant for the subjects. Researchers need to be thoughtful when designing representative tasks in order to accurately simulate competitive contexts.
Authors: Clemente, Filipe M.; Couceiro, Micael S.; Martins, Fernando M. L.; Mendes, Rui; Figueiredo, António J.
Abstract:
The aim of this study was to inspect the influence of each half of match and the ball possession status on the players' spatio-temporal relationships. Three official matches of a professional football team were analysed. From the players' locations were collected the team's wcentroid, wstretch index, surface area and effective area of play at 9218 play instants. The results suggested that the values of teams' dispersion and average position on the field decreases during the 2nd half of the match. In sum, this study showed that the half of match and the ball possession status influenced players' spatio-temporal relationships, in a way that significantly contributes to the collective understanding of football teams.
Authors: Liu, Hongyou; Hopkins, Will; Gómez, Miguel A.; Molinuevo, Javier S
Abstract:
The aim of the study was to evaluate the inter-operator reliability of OPTA Client System which is used to collect live football match statistics by OPTA Sportsdata Company. Two groups of experienced operators were required to analyze a Spanish league match independently. Results showed that team events coded by independent operators reached a very good agreement (kappa values were 0.92 and 0.94) and average difference of event time was 0.06±0.04 s. The reliability of goalkeeper actions was also at high level, kappa values were 0.92 and 0.86. The high intra-class correlation coefficients (ranged from 0.88 to 1.00) and low standardized typical errors (varied from 0.00 to 0.37) of different match actions and indicators of individual outfield players showed a high level of inter-operator reliability as well. These results suggest that the OPTA Client System is reliable to be used to collect live football match statistics by well trained operators.
Authors: Lythe, John; Kilding, Andrew E
Abstract:
We aimed to determine the effects of substitution frequency on physical and technical outputs of strikers during competitive field-hockey. Five matches were played involving the same two teams, during which three different substitution frequency conditions were assessed: three strikers with no substitutions (Sub3), four strikers with a moderate amount of substitutions (Sub4); and five strikers with a high amount of substitutions (Sub5). Physical outputs were measured using GPS and HR monitors and technical outputs (positioning and possession ratings) were determined using video-analysis. There were no significant differences between conditions for total distance covered per position70 (Sub5=8414±125, Sub4=8422±34, Sub3=8282±0m) and high-intensity (>19km. h-1) running (Sub5=701±46, Sub4=685±28, Sub3=723±0m). There was a tendency for greater substitutions to result in less decrement in total distance and high-intensity running when 1st and 2nd halves were compared. Greater substitutions increased total technical outputs compared to less substitutions (Sub5=241±35, Sub4=207±38, Sub3=173±0). In conclusion, while a greater substitution frequency does not increase the physical outputs of strikers, a higher substitution frequency appears to offsets decrements in physical outputs due to fatigue, as well as increase the technical contributions of strikers during competitive play.