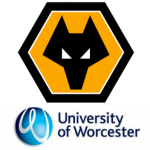 Website Wolverhampton Wanderers FC in partnership with the University of Worcester
PLACEMENT TITLE: Academy Performance Analyst Placement MSc Bursary x 2
LOCATION: Sir Jack Hayward Training Ground, Compton – Additional travel may be required
HOURS: 25 hours per week from July – May (2019/2020)
CLOSING DATE FOR APPLICATIONS: Saturday 25th May 2019, 11:59pm
Placement description
This placement is to support university study towards a recognised qualification in the Performance Analysis field working in partnership with the University of Worcester and Wolverhampton Wanderers Football Club. The successful candidate's will receive a bursary to cover tuition fees on the MSc Sports (Performance Analysis) course (https://www.worcester.ac.uk/courses/sport-msc) starting in September 2019. The course is specifically designed to enable you to develop the knowledge and skills required to work as a performance analyst in elite sport.
The placement will support the Academy Performance Analysis process and services, enabling us to enhance the quality of content, research and development given to Coaches and Players. These roles will support all age groups within the Academy, coordinating parts of U9-14 Analysis process whilst also making sure that the U15-23's can prepare as best as possible, as they progress into the professional development phase.
Key responsibilities
Filming and coding of training/matches across Academy Teams – This will include all age groups from U9 to U23.
Maintenance of video and statistical databases of teams, players and league trends.
Support in the production and delivery of team/individual meetings.
Provide best practice clips from relevant age groups to maintain library based around the club playing style and identity.
Involvement in research-based projects on learning styles, delivery and technology.
Assist with the implementation of player development plans and support coach observation sessions.
Assist in coverage of tournaments across all Academy age groups as required.
Key Essential Skills
A minimum of 1 years' experience of working in a sporting environment to provide Performance Analysis support and delivery.
Experience of presenting in front of large groups.
An undergraduate degree in a Sports Science, Sport Studies, Coaching or Performance Analysis related course.
Acceptance on to the MSc Performance Analysis course at the University of Worcester.
Post-holder must hold or obtain at the earliest opportunity the relevant safeguarding training (i.e. FA Safeguarding Children Workshop).
Post-holder will be subject to a DBS check at the appropriate level and cleared by the Wolves Safeguarding Manager.
Key Desirable Skills
Evidence of excellent Football knowledge through analyst, coaching or playing experience.
Excellent knowledge of Microsoft Office and Apple based products to build presentations, databases and graphical resources.
Good knowledge of video editing software (iMovie/Final Cut/Adobe) etc.
Understanding of SportsCode software and awareness of coding processes.
Demonstrate an advanced understanding of relevant equipment and technology, including its operation and maintenance.
FA Level 1 and 2 Coaching Badges.
This list is not exhaustive. For Further information please download the appropriate Placement Description from https://www.wolves.co.uk/club/vacancies/
To Apply:
Please send an email to m.bateman@worc.ac.uk with a covering letter and CV outlining your suitability for the placement by 11.59pm on Saturday 25th March 2019.