An Interview with Catapult's new Head of Europe and former Carling Cup winning Performance Analyst Paul Boanas
Rob: You have recently been made Head of Europe for Catapult sports. Can you give us a bit of background on Catapult and what your new role involves?  
Paul: Head of Europe is a newly created role, we are investing heavily in this region increasing the staff numbers from 2 to 12 over the past 3 months bringing in Sports Scientists and Product Engineers to ensure we provide the highest order of care for our customers.  It sounds very corporate, but my role is to ensure that we grow our position in the region…and ultimately to ensure that our current customers receive the highest level of service and support.
Rob; You spent 14 years at Prozone and must have seen a lot of changes in that time. Can you give me an idea of the biggest changes you have seen in PA over that time and the most important lessons you picked up along the way?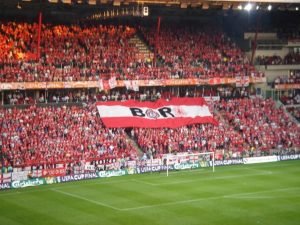 Paul: My first day at Middlesbrough FC (where I spent 3 years as a PA under Steve McClaren) I was recording video to video with the classic "fuzz" between recordings that this generation know nothing about!  I was showing that to multi million pounds worth of talent…what Prozone (other providers are available of course ;-)) did was bring accountability and efficiency of process that wasn't there previously.  The changes in technology in general have massively benefitted "our " (I still feel I can use the royal "our") community: Video to DVD to Digital, Size going up and price coming down of storage, speed of connectivity, size of capture equipent etc etc…I could go on all night.  The "new" generation don't know they are born sometimes!
We can't live in the past…most people who treat the new generation with distain because they haven't had the hardship of the early days of analysis are generally just bitter and jealous that they didn't have the tech we now enjoy in their early days…having said that, the work commitment of some these days is definitely less than it was; there is an expectation that they can learn quick and get a job straight away…its the Sky+ generation…those who have never had to actually sit through an advert break!
Most important lessons I have learnt along the way was to be nice to everyone.  Those you are nice to on your way up will be nice to you on your way down!  Make contacts and stay in touch with them…make an impact. Listen to their needs, not yours.  Read business books where you can.  Learn from other industries. Stay updated on new technologies…even if you are the happiest club on the planet with the systems you have, still look at what else is out there, it will make you appreciate what you have and you might learn something.
Rob: You were a PA with Middlesbrough when they won the Carling Cup – that must have been an enjoyable experience?
Paul: I bore everyone with my Carling Cup experiences.  Loved it.  Amazing journey and an amazing day.  It was great to see that last year I was credited with playing a major part in the success in a 10 year anniversary book of the win.  Parents were happy!  There are few and far between analysts who get to experience winning something…and it means more when it's your home town.  It allowed us a route into Europe as well which was tremendous…especially for me as my role became even more important…sparingly they weren't aware of Banik Ostrava!
Rob: GPS and Physical data have always overlapped between traditional sports scientists and Analysts – do you think it's important that there is good communication between the technical/tactical analysis and the physical parameters?
Paul: Anyone who doesn't believe that good communication between all departments is important shouldn't be working in professional sport.  I think the development of the Technical/Performance Director roles will increase this further.  The rise of the Data Scientist (with Data Engineers and Data Artists hopefully not far behind) will also increase the need for departments to communicate.  There is some really good work going on between match day and training data…watch this space.
Rob:  Concussion has become a big issue in sports recently – do you see sensor technology playing a big role in being able to monitor this?
Paul: Yes, it will play a part.  There are numerous companies who are seeing an opportunity to develop sensors/devices in this area.  It's incredibly difficult though. It's a hugely under resourced and under researched area…we are involved in several research projects in this area given that the accelerometer can demonstrate impact on the body…but of course our unit is not on the head, thus it can only go so far.  We shouldn't forget video technology as well to actually help us monitor closely what is going on and as a record of what happened for review and education.  Something like Google Glass is being used/trialled by some Football physios so they can relay live footage back to the doctor on the bench.
Rob: Since Prozone started offering their services Football has always had access to large amounts of data. Do you think clubs are getting better at asking the right questions, rather than just collecting data for the sake of it?  
Paul: Still too early to tell to be honest.  Having at least an idea of what you want is important….but it is about identifying the needs of the manager…too many analysts take the first answer given to them and start analysing without actually getting to the depth of what the REAL issue might be (I like the 5 whys…more analysts should probe  http://en.wikipedia.org/wiki/5_Whys     …but I am not naive enough to think that this is easy given the likely age and experience difference and the manager is likely to get annoyed…but the concept it right).  The first step then is to filter and sort the data to understand what you have…there is far too much noise.  The collecting data also sometimes come from fear…"what if we need it in the future…".  In fairness, with the sheer amount of manager changes, it not a surprise we aren't getting to the core of what is going on…
Rob: Technology is only part of any solution – Do Catapult help their clients make more sense of the data?
Paul: It's fundamental. A necessity. We are employing 5 Data Analysts who will specialise in different sports.  But on a day to day level, we have product engineers and sports scientists who are on hand to help our customers maximise their investment.  Education sometimes sounds like a dirty word in our industry, but its key to developing.  We recently came No.1 in Big Data and 12th overall in the Fast Company Most Innovative Companies worldwide.  Massive accolade.  If the data we provide, and the service we provide to help them interpret the outputs, helps keep the players on the field for longer, everyone is happy.
Rob:  With that in mind injury analytics is obviously a huge area for development – I don't expect you to give away what individual clubs are doing – but you must see some great work being done in this area. Do you think cubs are getting better at managing both the quantity and quality of data in this area?  
Paul: Absolutely.  Players are generally returning quicker from injuries than ever before…but sometimes this is a bad thing, there are examples where teams' want a player to come back to full training but the data has shown he isn't fully fit, and thus needs more rehab.  We focus on RISK, READINESS and RETURN TO PLAY…each are essential to an overall programme of asset management.  Partnerships with universities is key in this area for clubs from a research and experience perspective.  We work with 85+ uni's and research centres worldwide as our data is seen as the most highly validated.
Rob:  For those sitting in a Uni class – What advice would offer to any aspiring analysts/sports scientists – what can they do to make themselves more employable?  
Paul: I have been asked this a lot over the years.  Be bold.  I recently did a presentation to 75 Sports Science students at a university and only 2 students came up to me at the end; I was very disappointed.  The 2 that did make contact are coming in to Catapult's office for a chat next month. Ask questions, learn the industry, learn the environment, experience different sports, and consider every conversation an interview.