Guest blog post: Alex Threapleton, Head of Performance Analysis at Heart of Midlothian FC.
Firstly I would like to thank the staff at Leicester City for taking the time to help broaden the knowledge base of analysts and coaches within the sport. It was refreshing to see a reasonably priced conference aimed directly towards Performance Analysts. With around 300 in attendance from a range of countries and footballing organisations, an interactive smart board and wall mounted screens allowed the speakers to annotate their clips using ChyronHego's Coach Paint software. Which Ed Chamberlain acknowledged, "Put even Monday Night Football to shame",
Edward Metgod – Scout & Analyst at KNVB Holland Senior National Team
Charismatic and well-spoken Edward introduced the Dutch way of analysing tactical strategies focusing on ball possession opposition. Being the first of the speakers to mention what became a key message throughout the day, the importance of every individual within a club understanding the manager's philosophy. Speaking about making the game "simple" and using a model to base analysis around which broke the game into 4 key stages.
Using the Dutch model of being compact in defence and counter attacking, Edward spoke about players understanding their roles within a defensive shape.
Adam Sadler – Tactical Analyst at Leicester City
Adam's presentation was highly anticipated with the hope for insights into Leicester City's success. Again the key messages appearing were that the communication and consistent framework within their opposition analysis were fundamental to success. Asking, Is everyone speaking the coaches language? And do the scouts know the coaches philosophy? Also stressing the importance of the speed and efficiency of the information being relayed back to the coaches, allowing the analysis to be implemented on the training field as early in the week as possible. Admitting to pinching Edward's model on a coaching visit to AZ Alkmaar, Adam said the model now played a major role in how Leicester structure their opposition analysis.
Bernd Stober – German National Youth Coach
In typical German style, the game was made to look simple. Bernd presented different methods of building from defence against different formations. Encouraging teams to play out from the back with goalkeepers and defenders being comfortable in possession and using opposition pressure to manipulate space. Using the smart board to present some great example of opposition being opened up through effective defensive build up. However not every team is blessed with the Manuel Neuer's and fleet footed defenders Germany have at their disposal, personally these are high risk ideas. The key principles of not passing too early, holding the ball until you get a reaction from opposition and creating space are still the key messages to take away.
Inigo Idiakez – Leicester City U16's Youth Coach
My personal favourite, Inigo came across as a great youth coach with a clear passion and understanding of the game. The Spanish stereotype was clear for all to see, an awareness of space and desire for his technically gifted players to let the ball do the work. Discussing the positional game from a Spanish point of view, creating superiorities around the pitch was the focus. 3 v 2 situations were appearing aplenty on screen, Inigo highlighted the need for players to drive with the ball before provoking an opponents reaction while always having clear & simple passing options, asking for a "free man" to always be showing for the ball. From the video you could see his academy players (with exception to one trialist) having a clear understanding of finding space, not always needing to move to end up in space but be able to move to opposition.
Roy Hodgson – England National Team Manager
The headline act, anyone in attendance will agree when I say "Where do I start?". Personally I was left disappointed, Roy attended in a jovial mood, cracking jokes, but I sense the audience didn't take away too much. A mention to the hard work and well-annotated video presented by Alex Scott which supported Roy. What I did learn was that Roy prefers the term "Supporters" rather than "Fans" and that "when shots on goal determine the outcome of a game, England will be shooting from kick off". The key to this presentation was how does a national team address the gap between fixtures. The England squad had used an evening between international camps to get the players together and involve them within groups in review of video and Roy was keen to get the players putting their opinions and thoughts forward.
Erik Hamren – Sweden National Team Manager
The most animated and gripping presenter, Erik grabbed your attention through gestures and vocal tones, discussing the differences between teams dominant in possession and teams non-dominant in possession. How can you effectively press both opponents, with lots of counter attacking examples.
"Like Bee's, they buzz about and get in your face"
The Bee-Hive, or the areas just outside a defending team's penalty box as most know it, was key to Erik, wanting his players to press aggressively and give the opponents no time to play. Highlighting a personal preference of playing the ball in behind opposition on the regain. If this fails then, "Find Zlatan".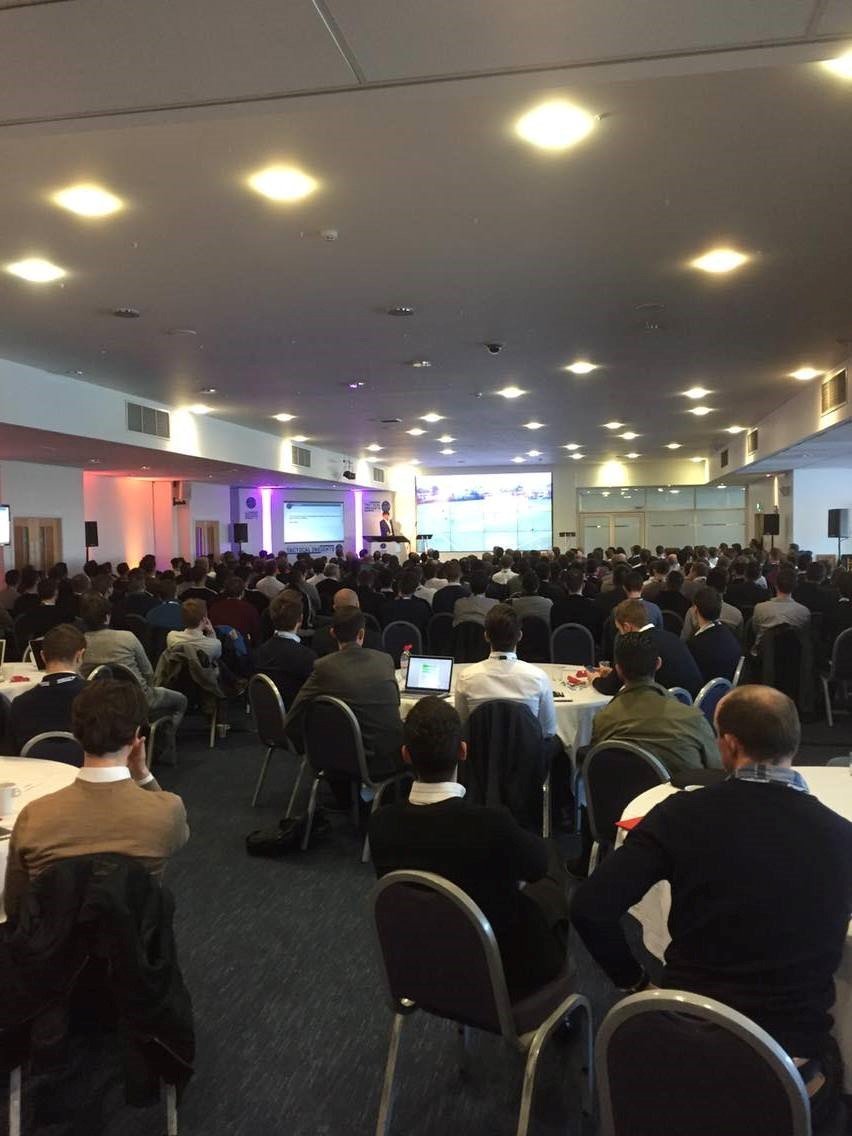 Rob MacKenzie – Head of Player Identification at Tottenham Hotspur FC
Closing the day Rob discussed how analysis is best implemented and with greatest effect. Ironically in front of a tired and mind-boggled audience Rob joked about not involving any of his suggested methods in his presentation. Nonetheless I still managed to pick up plenty; the key was getting the players to be able to take on information given to them, large team environments are time efficient but researched has showed players to shy away from involvement. I left really thinking of ways to make my analysis meaningful to the players, something Rob stressed. The best environment was one where the players were encouraged to take ownership of decisions, give the players the impression the information is their decision rather than solely the coach, whether this is utilising leaders within a group or working in smaller more personal groups.