This is a guest post written by Alex Rathke (@AlexRathke).
Injury Insights using Data
This past Thursday, Kitman Labs (https://twitter.com/KitmanLabs?lang=en) based off Talbot street in Dublin, Ireland held their first ever Innovative Session. The purpose of the session was to give the public an insight into their work and how they enhance the performance of teams using data. This post is intended to be a basic synopsis of the evening along with some personal thoughts of the event. Otherwise, Kitman Labs recorded the event which can be accessed here (https://kitmanlabs.wistia.com/medias/97pl94isg5). The 4 speakers on the night were:
| | | | |
| --- | --- | --- | --- |
| Name | Title | Organisation | Talk Title |
| Erin Kearney | Marketing Manager | Kitman Labs | "An Introduction – The Purpose of Data-Driven Sport" |
| Sinead Flahive | Data Scientist | Kitman Labs | "Creating the Data Models to Support Elite Teams" |
| Peter Tierney | Sport Scientist | Leinster Rugby | "An introduction to GPS Data and Sports Science" |
| Andy Shelton | Performance Scientist | Kitman Labs | "Using Analytics to Unlock Success in Elite Teams" |
Before I dive into the piece, who and what do Kitman Labs do? Predominately they focus on injury prevention by using data-driven insights. I understand that up until quite recently they also started venturing into the general performance sphere. What do I mean? Basically, how do injury and performance relate to each other and what can we learn from it?
Sinead Flahive – "Creating the Data Models to Support Elite Teams"
Sinead took us through their process of analysing the data. It arrives from clients often in a very unstructured format (nothing new for any analyst). Before they get to analyse the data, they have to in-house clean the data using various tools such as R, Python and more. From there, they conduct their data analysis, using graphs and other visuals along with an online system. Then it is fed back to their clients who are able to monitor the players using the data. The clients receive a warning notification if players are above/ below-identified benchmarks. For example, if a player may be under/over-training according to the data.
A little side note, Sinead also mentioned a very important point around the world of data collection. There are SO many tools that allow for data collection. Not just in sport but during our everyday daily life, we are surrounded by data that is collected about us, by us, for us. Specifically, in sport alone, the amount of software available is basically ridiculous – near mind-boggling but competition is healthy right? It is very important to establish what works best for your team.
Peter Tierney – "An introduction to GPS Data and Sports Science"
After a 20-minute pizza break – of where Kitman Labs were very generous with the amount of pizza they ordered, we got back to business. Next up, Peter Tierney, a Sports Scientist at Leinster Rugby. He is responsible for the GPS data. For those that do not know what GPS data is – here is a quick explanation. Sport Techie (a website that reviews the latest sports technology) stated GPS as:
"Global Positioning Systems or simply GPS, have been rising in popularity in team field sports for over a decade. This wearable provides context to strength and conditioning coaches, sports scientists, athletic trainers, and sports coaches to understand and detect fatigue and fitness on a deeper level".
Furthermore, it is able to measure total distance, intensity, volume, density, average speed and so forth. A bunch of valuable information which sports scientists can use to help inform decision making. Peter was very enthusiastic and helped us understand how he uses the data day in and day out. Using the data, he demonstrated examples of how players may look by position and the differences between positions, player involvement and distance run as well as many more.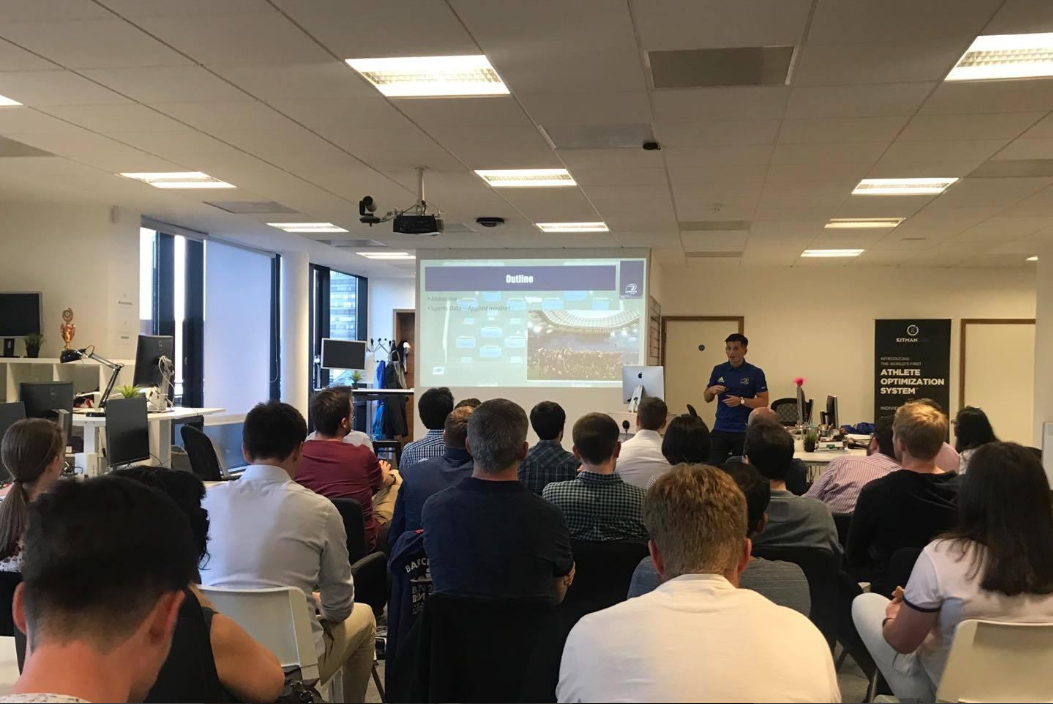 Unfortunately, in the Q&A at the end, I forgot to ask Peter a very important question. How reliable does he find GPS and what steps has he taken to ensure it's reliability? There are suggestions that there is a variance between the accuracy of GPS systems and how they are used (Aughey & Falloon, 2010 & Dallaway, 2014). I am sure that Peter has experienced this but how he manages these potential inaccuracies would have been exciting to hear.
Elsewhere, he brought up an interesting point for how he evaluates research in his role: Interesting vs Helpful. The graph he had definitely got my brain cells firing. There was not anything revolutionary on the slide itself but rather the simple graphic caught my eye. I have no idea who to give credit for the graph below, so I am referencing Peter and he may know who to direct people onto if somebody wants to further examine the topic.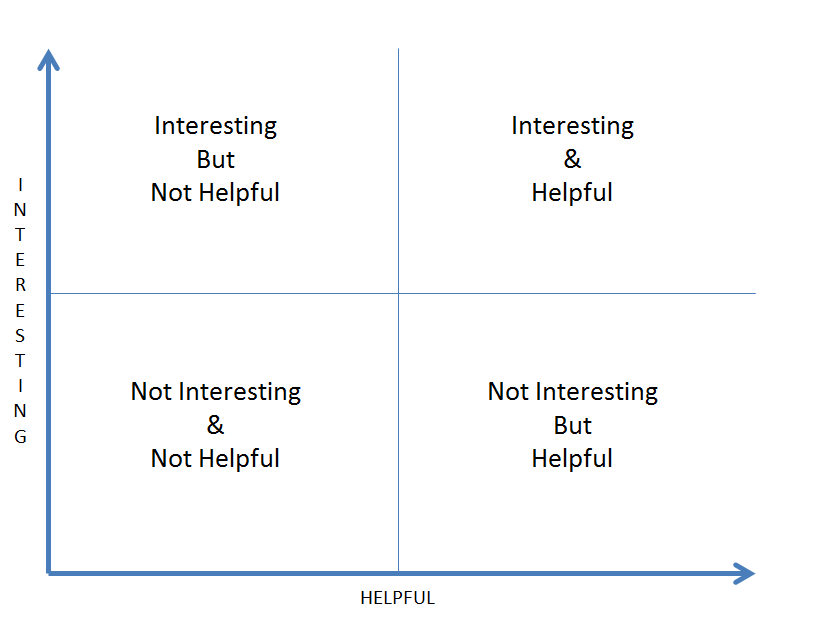 Andy Shelton – "Using Analytics to Unlock Success in Elite Teams"
Last but not least, we had Andy Shelton – a Performance Scientist at Kitman Labs based in their US offices. Andy took us through the company's main area of expertise but also later ventured into the performance area. The presentation dealt with understanding how the performance data for injury can be combined into the overall analysis of performance. A personal favorite for me.
I have a strong hunch that departments (physio, doctors, analysis, nutrition, and S&C) work separately rather than as a collective unit in understanding their data and how it affects performance. Even if they say they do, I would suspect there is no real "process" in place. Hopefully, we can see this minimised going forwards. The ideal scenario would be to incorporate all levels of data (medical, physical, nutritional, technical and emotional on players) into one database from which coaches and performance staff can assess players and injuries more effectively. The work that Kitman Labs have started is most definitely a step in the right direction.
How is this work different?
As a performance analyst and blogger, I do not have access to the type of data that Kitman Labs has. Why would I, the data comes directly from the professional clubs themselves. They have paid for a service and I do not expect that data to ever be made available to bloggers. Therefore, the data that most bloggers have access to is the technical data (shots, tackles, interceptions and so forth). This data is collected by companies such as Opta and STATS. Yes, we can develop statistical models, predict future performances of players and so forth. We however only see one slice of the pie. That is why Andy's presentation was extremely insightful.
References:
Aughey, RJ. & Falloon, C. (2010) 'Real-time versus post-game GPS data in team sports'. Journal of Science and Medicine in Sport, 13: 348 –  349 – https://www.jsams.org/article/S1440-2440(09)00100-5/fulltext
Dallaway, N. (2014) 'Movement profile monitoring in professional football'. Master Thesis – University of Birmingham, 1 – 93. http://etheses.bham.ac.uk/5044/1/Dallaway14MPhil.pdf