This is a guest blog post from Natalie Greening. @natgreening17
From Home To Hobart
8 months ago I got on a plane to Tasmania, the "Island State" of Australia. Many move to Australia to experience the big shiny lights of Sydney or Melbourne, but I was heading to Hobart. Why? To pursue my dream of being a full time cricket analyst.
It had been a long road to getting onto that plane. I had worked for a performance analysis company in which I had the opportunity to work with multiple sports – including working with an NSL team, university rowing teams, rugby teams, lacrosse and the Durham MCCU – but my ambition was always to work full time in cricket. I always knew this was possible, as Gemma Broad made it with England. Seeing Gemma work with an International team showed me that I could succeed as a female cricket analyst at the highest level of performance analysis.
I've been lucky. In 2010 I was offered a 10 month placement during my studies at Bath University in which I impressed enough to be offered a full time job for when I graduated in 2012. It was great in that I was able to work with multiple coaches, sports, softwares, environments – a really good platform for anyone starting out as an analyst. The best part was the Summer though, where I was wholly committed to cricket and the County, Durham. Through supporting Durham I was fortunate enough to be developing as an analyst surrounded by incredibly supportive staff. It was helpful that the Coaches and Captains believed that what I was contributing was valuable, so much so that early morning prematch meetings were a regular occurrence. It was also incredibly rewarding seeing players graduate from the academy to playing First-Class cricket.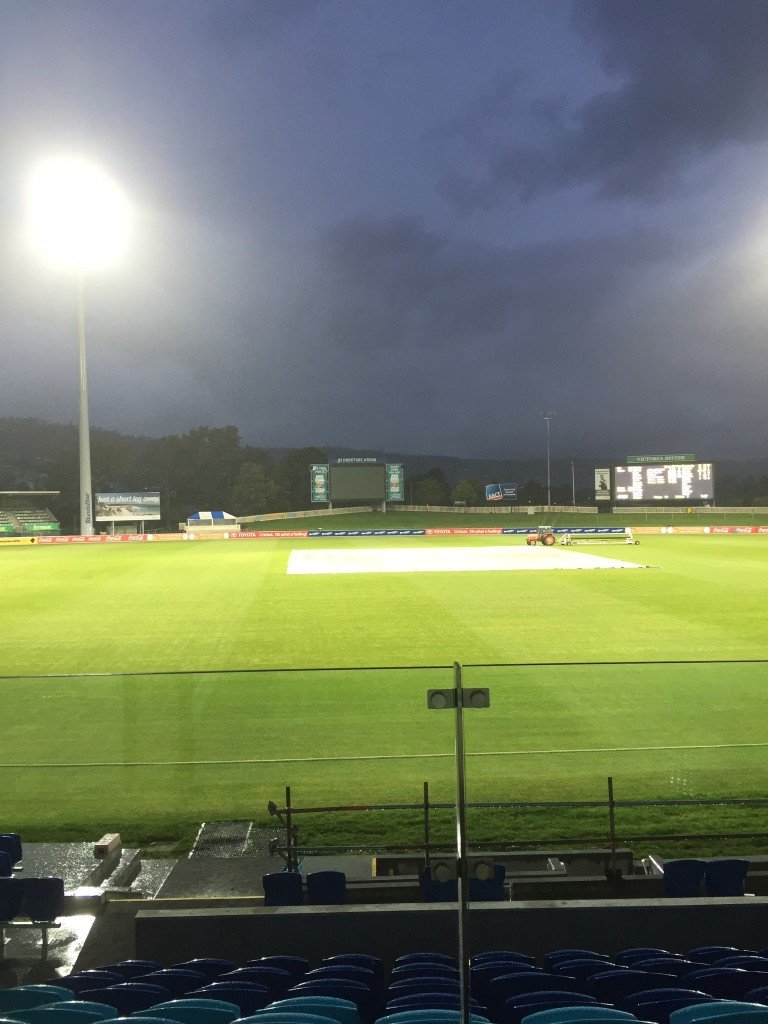 Cricket Tasmania
After 4 seasons in the North East of England I jumped at an opportunity to join Cricket Tasmania as a full time performance analyst. Not only would I get the chance to work with the men's team throughout the year but I also would have the opportunity to work with the women's side, The Roar, and the Big Bash team, the Hobart Hurricanes. It was a tough call to move to the other side of the world, but it was a chance I couldn't let pass me by. I am thankful for Cricket Tasmania for giving me that chance to start this next chapter.
This first season has been a huge learning experience. You quickly realise the small things you take for granted when you have worked with a team for a while. It was pretty overwhelming to start with. A lot of things were completely different, most notably the geography of the season here, with away games being a plane journey apart. When I arrived most of the players and coaches were in India for the Champions League, which was quickly followed by most of the team then going on to Brisbane for the Matador BBQ One Day Cup (they love a good sponsor over here), while I was getting accustomed to life in Tasmania. The analysis software I use here took a bit of time to get used to as well, with the formatting of the program different from the ones in use in England. Another difference was that I was working with a lot more coaches, who each having their own thoughts and inputs into the work I do. The schedule was another big difference; rather than my time being concentrated on a full schedule for one team, I have been busy juggling myself between 4 teams, with Men's 2nd XI cricket being required to be analysed which it isn't in England.
I have spoke a lot about people in your working environment, but don't under estimate the influence of the people outside of the team bubble. I had a lot of people supporting me along the way and without them I wouldn't be here in Hobart, living the dream. For me, the best part about being an analyst is seeing your work reap rewards on the field. When I hear players using my stats in the stump microphone, or get a wicket with a plan that came from my analysis, it makes it all worthwhile. My advice to anyone working in analysis is to take every opportunity you can get, wherever it may be, as the 1% difference you can make off the field can change games, and even seasons.