Through the ages, many individuals have revolutionised the way we look at Sport Analytics, and indeed its application. Most of these individuals, the likes of Billy Beane, Dave Brailsford and even Michael Edwards in today's sporting landscape, are at some point acknowledged for their contributions. But some, unfortunately, fall through the net, with their achievements either forgotten about, or simply marginalised. In the case of Charles Reep, he is seemingly a victim of both pitfalls.
In the years before to his involvement in football, Charles Reep was an Air Force Wing Commander, deployed in Germany towards the end of World War Two[1]. His love affair with numbers was obvious from an early age, with Reep initially trained as an account prior to his years in the military. Following the war, a curious Reep would spend much of the late 1940s attending football matches, as the game began to grow and evolve. He had already been a keen observer of football before the outbreak of war, even attending a series of lectures presented by Arsenal Right half Charlie Jones in 1933. However, his fervour and love for the sport – initially just a hobby, would lead to a life changing afternoon at Swindon Town, in March 1950.
"not more than three passes"
After frustratedly watching a first-half where the home side failed to capitalize on their chances, Reep decided to start taking notes during the second period of the match. He would continue to do so for the remainder of that season. What he observed, thanks to his relatively primitive form of data collection, was to change English football, and Sport Analytics in the UK, profoundly. Reep noted that most goals, of varying nature, were scored after a string of 3 passes or less; "not more than three passes" he told the BBC in 1993[2]. He also concluded that, in order for Swindon Town to have the best chance of winning games, they needed to average 3 goals per match, as the average amount they conceded was 2 per game[3]. It was simplistic in nature, but in the days before Opta and Who Scored, Reep's scrunched up pieces of paper became English football's most advanced form of data collection to date. The conclusions Reep came to in the years to follow – on playing style in particular – still divide opinion today. All too often, this tactical blueprint is used as a stick in which to beat his legacy within football as a whole, which I personally believe is a tremendous injustice. Whatever you think of the football Reep inspired in later years, it is crucial that his contribution to evolution of Sport Analytics is not sullied or forgotten.
His first job in football
Reep's infatuation of analytical data did not go unnoticed. He was soon hired by Brentford FC as a part time consultant. However, just prior to his departure from the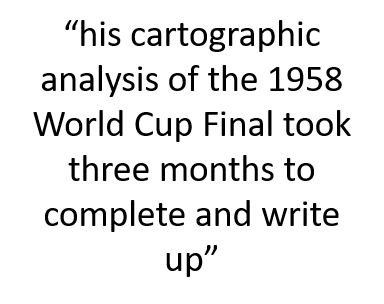 Air Force in 1955, Charles was presented with another career defining opportunity. Through a personal contact, Reep was introduced to Wolves manager Stan Cullis, who would eventually take Reep on – once again as a consultant. This move was especially significant, given Wolves' status in game at the time. Throughout the mid 50s, the West Midlands side were viewed as one of the best teams in the world, following tremendous domestic success. Reep would play a key role in transferring that success continentally, with his real time analysis of Wolves' match vs Honved (seen as a European Cup final before such a thing existed) helping Cullis to cultivate a style of long ball football that he desired[4]. A spell with Sheffield Wednesday would follow, before he attended the 1958 World Cup in Sweden, where he would again document statistical data from the matches he was present at. In terms of data collection, and comprehension of the game, he was simply ahead of the curve – particularly domestically. One stat that defines his vigour for the game, is that – as Reep expert Keith Lyons claims, "his cartographic analysis of the 1958 World Cup Final took three months to complete and write up[5]".
Long balls may be an enemy of the modern game, but it is important to note that once upon a time, it reigned supreme – and it had the backing of data analysis, too. In the late 1970s and early 80s, English football was on top of the world, in club terms at least. Liverpool, Nottingham Forest and Aston Villa were triumphant in Europe, all with contrasting, but distinctive styles of play. Liverpool were built on exciting past and move football, slick interchange of positions that would, famously, lead to full-backs scoring in both the 1977 and 1981 European Cup finals. Forest, almost as a reaction, were built on fast counter attacks, while Villa were somewhere in between. However, for English football's minnows to topple the new conquerors of the European game, they had to be a little bit different, a little bit cunning. Up step the works of Charles Reep.
Watford FC & Graham Taylor
One of the first clubs to embrace Charles' methods to spectacular effect, was Watford FC. In 1977, Elton John, then chairman of 4th division Watford, made the bold call of hiring Lincoln City manger Graham Taylor. Under the ambitious Popstar chairman, expectations were sky high, with Watford expected to be playing in Europe within 5 seasons[6]. To the amazement of everyone at the club – they were, thanks to a familiar philosophy with a modern twist, all introduced by Graham Taylor. Taylor implemented many of Reep's footballing principles. The ball was to be pumped forward at the earliest opportunity, with POMO also a key concept to build up play. What was unique about Taylor's Watford side however, was their pressing[7], a relatively new phenomenon (sophisticated pressing that is) to English football at the time. This was arguably what allowed Watford to flourish throughout the 80s, as they combined Reep's analytical findings, with relentless pressing to formulate a highly effective brand of direct football.
An alternative interpretation of Reep's footballing philosophy, being used to great effect, could be found at little known West London outfit – Wimbledon FC. Indeed, in the late 1970s, Wimbledon were nothing more than a dwindling lower league side, desperately in need of inspiration, and fundamentally, an identity. Under Dave Bassett, who helped to implement Reep's ideals, they propelled themselves through the divisions in the early 1980s, their peak being a famous FA Cup win in 1988 against the might of Liverpool. The contrast between the two finalists could not have been more stark. Indeed, John Motson's infamous line "the crazy gang have beaten the culture club" seemed especially poignant. This was Reepian football, only with more of thuggish edge than the former RAF Commander may have approved of. That being said however, in Watford and Wimbledon, we see examples of two sides utilizing Reep's analytical findings to overcome financial limitations – in order to achieve great things in the game. Unfortunately for Reep's legacy, Taylor's success at this time, would ultimately lead to a tournament where his tactical blueprint would be left tarnished and derided for decades to come: Euro 1992.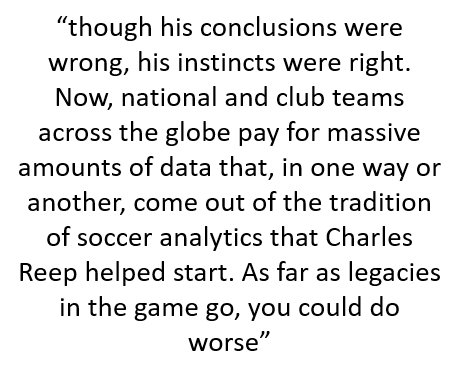 It seems harsh to blame Taylor for all of England's failures in the early 1990s. Mitigating factors like injuries, and the general talent pool at the time, both played a role in leading to a catastrophic era for the English national side. And yet, some will lay the blame for Taylor's underachievers, at the door of Charles Reep and Charles Hughes, whose previously revolutionary tactical observations were now being scrutinised more than they had ever been. It is certainly arguable that this dismal spell potentially did end successful longball football, in the mould of Watford, for decades to come. It was no longer a fashionable leveller for pluky underdogs, guaranteed to deliver results. The reason it had become ineffective appears to be down to tactical trends and developments, rather than any systemic failure in long ball football – for as Sam Allardyce and Tony Pulis show, it can have its place in the modern game. And yet, one thing that cannot be disputed, despite all of this, is Reep's gargantuan legacy in the arena of Sport Analytics, and performance analysis in football. He remains a true pioneer – and while managers since have used analytics to develop contrasting styles of styles of play – the fact that they are able to do so at all, is a sign of what Reep has given to the game. Who knew that a former accountant, taking hurried notes on scrunched up pieces of paper, could end up influencing football for generations to come.
Perhaps Joe Sykes and Neil Paine of Five Thirty Eight put it best when summarizing Reep's polarizing legacy. Even in a relatively scathing article on his tactical legacy, they complement his overall contribution, stating; "though his conclusions were wrong, his instincts were right. Now, national and club teams across the globe pay for massive amounts of data that, in one way or another, come out of the tradition of soccer analytics that Charles Reep helped start. As far as legacies in the game go, you could do worse"[8]. Today, It seems more vital than ever – given the industries growth in recent years – that Reep's legacy is not tarnished, and more importantly, not forgotten. It would be fair to say that Reep's biggest weakness was his stubbornness and unwillingness to cede ground to his critics, as his and Graham Taylor's fall out in the early 1980s highlights[9]. And yet, it was that very same stubbornness and refusal to conform, that first led Reep to blaze an analytical trail in the post-war years. At a time when few others contemplated the sheer relevance of data, Reep would continue his painstaking work undeterred, revolutionizing the footballing world in the process. Whatever you think of Charles Reep's tactical influence, his legacy on Sport Analytics is not only undeniable, it is simply invaluable, for the industry we see and admire today, would not be the same without him and his priceless notes.
Tom Fenton is a Freelance Sports Writer and can be found on Twitter @tomfenton11
[1] https://keithlyons.me/blog/2011/02/28/goal-scoring-in-association-football-charles-reep/
[2] https://fivethirtyeight.com/features/how-one-mans-bad-math-helped-ruin-decades-of-english-soccer/
[3]https://fivethirtyeight.com/features/how-one-mans-bad-math-helped-ruin-decades-of-english-soccer/
[4] https://keithlyons.wordpress.com/2011/02/28/goal-scoring-in-association-football-charles-reep/
[5] https://keithlyons.wordpress.com/2011/02/28/goal-scoring-in-association-football-charles-reep/
[6] p309. (2014) Wilson, J. Inverting the pyramid. Orion Books.
[7] p309. (2014) Wilson, J. Inverting the pyramid. Orion Books.
[8] https://fivethirtyeight.com/features/how-one-mans-bad-math-helped-ruin-decades-of-english-soccer/
[9] P321. (2014) Wilson, J. Inverting the pyramid. Orion Books.