This is a guest post written by Ciaran Toner
EIS Skills for Performance 2017
Why Skills for Performance…
Every year the English Institute of Sport hold a training course called Skills for Performance, I had previously helped out with GB Canoeing and some of the other analysts there were attending the course that was then roughly 5 days long (mine was only a weekend)! Anyway, I hadn't heard of it before and was quite jealous that they were going on it so I said I would definitely apply next year…I say apply because there's only 10 spaces per discipline and they don't base it on A: Height or B: Looks, so I found myself in with a chance.
The Struggle…
As soon as the poster went up online for applications I started to get my stuff together before applying, I scrolled through the application form and there was a section per discipline (Performance Analysis "PA", S&C, Performance Lifestyle, Physiotherapy, Psychology, Physiology, Performance Nutrition and Biomechanics) finally when I reached the Performance Analysis section I discovered that we had to submit a video titled "Why Me, Why Performance Analysis". I dragged the thinking cap out of the wardrobe where it was resting on top of my MSc research paper and got the ball rolling on ideas for the video. I said to myself "the video will be grand sure it's just talking about an area you're passionate about blah blah blah…" oh how wrong was I! I ventured over to the DCU Sports Grounds and went into the Dublin GAA High Performance centre and managed to get one of the Physio rooms early on a Saturday morning. The backdrop for my video would be one of the Dublin players holding the National Hurling League trophy but I had to position myself perfectly so they couldn't see the big red "emergency" button behind me, tough task but it seemed to have payed off. Just as I was about to get started the Irish Women's Cricket team came in for a gym session and start absolutely blaring tunes so I went for a coffee break before I had even started (always a great sign). When I finally got going it was slow and very very very painful, my main aim was to not sound scripted while I had an idea of what I wanted to say I felt it was better to just go with the flow. Sometimes it's hilarious when something isn't actually scripted and you still sound like Anne Doyle on the 6:01 news…
The Journey…
With the video complete at long last I sent off my application and waited not so patiently to find out whether I had been selected or not. A few weeks later I got an email to say I had been selected to attend the course, I was absolutely delighted to accept my place and away to the pub I went to
celebrate…joking…or maybe not I can't remember! The course was scheduled to start at 9am on Friday January 6th so I decided to make a little trip of it and fly over on the Thursday (I say "little trip" because I had great plans for seeing what Birmingham had to offer on Thursday but instead I ended up scabbing off the Wi-Fi in a free art gallery and heading on to my accommodation…real classy). I had booked to stay at the conference venue the night before it was to start, basically so I couldn't get lost on the Friday morning, but I'm surprised I even found it to be honest because I had been pronouncing it wrong for all of Thursday (venue was called "Lilleshall" I had been pronouncing it "Lillys-Hall" but in fact it was pronounced "Lilly-sholl") so I was blessed that the taxi man was fluent in Dublinese. After settling in, enjoying some light refreshments (£3 Carlsberg) and a catch up with a good friend of mine Jo Holmes who was selected for the Performance Lifestyle discipline it was time to hit the hay.
Friday…
After a brutal night's sleep, Friday morning registration hit me like a tonne of bricks, the constant hanging around the tea/coffee and of course biscuits area waiting for someone to awkwardly start a conversation was very funny looking back
on it but sure that's how these things go. The course began with the "Insights & Interlocker". Insights was a personal profile which every successful applicant had to complete before coming on the course, so you're given a scenario and you have to choose between "most like me", "least like me" and then rate the others in order. It took a while to do but it turned out to be really rewarding and very useful. Insights is basically an 18-page document on yourself based on your answers and it shows your tendencies towards certain situations, I would highly recommend it! We were given a bit of background into that and we received a little more information about the results of the test, we were then told to move to the back of the room and basically speed date with anyone you could find for approximately 1min and then move on, discussing things like your background and if you were to have one super power what would it be, you know just regular chat…! After lunch we discussed in a little more detail the results of the personal profiles and then began to formulate what each one of us would look like on a good day or a bad day. Based on my results I found myself placed in the "Cool Blue" quadrant, the other quadrants were Fiery Red, Sunshine Yellow and Earth Green. On a "Good" day I have tendencies towards being factual, diligent, objective, structured and consistent. On a "Bad" day I have tendencies to nit-pick, be suspicious, can be cold towards people and pedantic (if your feelings are easily hurt maybe refrain from completing the personal profile). So basically this goes on for 18 pages and just when you think you're getting the best compliment of your life from this profile which is based on the answers you submitted they repeatedly bring you to your knees…, it really was brilliant! It had such a effect on everyone, making them aware of the people around them and preparing them for the potential personalities and traits of high performance coaches which they may be working with in the future.
We had our first Performance Analysis discipline specific workshop from 4pm-6pm on Friday evening, our coordinators for the weekend were Steve Evans (EIS Badminton England), Julia Wells (EIS Performance Analyst Technical Lead) and Chris White (EIS Head of Service for Performance Analysis). The title of this session was "Do I really want to do this, An Overview of PA in the EIS"…nobody walked out straight away so I'm sure that was a bonus! Within this session Chris, Julia and Steve spoke about their experiences as practitioners within the EIS and how they operate at the highest level providing video and data analysis pre-competition, in-competition and post-competition.
They used principles such as "Targeted, Prioritised & Integrated" when having a performance impact, highlighting that delivery must be targeted and answer performance questions, podium athletes are prioritised and analysts are integrated with the sport/coaches. We then focused on the Performance Cycle which placed emphasis on the analyst being to the right of the coach and consistently "landing the message".
One of the best things I found within this presentation was the constant referral to work in which they had previously completed, while they explained how they have worked in the discipline, they also gave precise examples of how they went about it. They spoke in-depth about the "What It Takes To Win" (WITTW) model by answering performance questions such as what does it take to win in Hockey, Cycling and many other sports within the EIS which are all working towards creating and implementing this model.
We later discussed the components of data analysis which an analyst must have in order to be successful, these were broken down to "Data Architecture" (getting the data in the right format to do something with), "Data Science" (answering the performance question in the best possible way) and "Data Art" (getting the message across to the right people so it lands). The remainder of the session was structured around the future roles of the analyst and the common attributes of a world leading analyst. After a heavy day of listening and learning, that night we had a guest speaker in Dr. Hannah Macleod from the gold medal winning Women's GB Hockey team from Rio 2016. Hannah provided brilliant inside information from an athlete's perspective of how they used the EIS multi-disciplinary team around them to aid them on their journey to Olympic Gold. This ended with the majority of people flocking to the bar for a drink and of course the PA's were the last ones standing after a solid 3 pints…not a high standard by any means.
Saturday…
Saturday began with a session called "the Colour of Coaching", in this we again discussed the various tendencies of coaches, how they can be linked into the Insights personal profile and how best to approach that fiery red personality or that easy go with the flow sunshine yellow. We were split into groups with a mix of other disciplines and tasked with a scenario whereby we had to speak to a coach about the 50% increase in injuries in their sport and we as a multi-disciplinary team had to pick a non-negotiable outcome that we would hope to achieve. While it wasn't very PA specific I being a "Cool Blue" took a step back from the thought process and simply tried to relate back to the conversation from a PA perspective when possible. There were 3 coaches and each were representing a specific quadrant from the Insights wheel, we found the sunshine yellow and earth green coaches to be relatively okay but when it came to the fiery red coach we needed a time-out. I found this exercise stripped back all you knew about your discipline and it mainly helped me to understand how to simply communicate with each individual coach even before trying to get your point across.
Along came a much needed break and I waddled over to the biscuits and coffee table once again and of course Irish people can't go anywhere without seeing other Irish people. Obviously we're the only ones who can understand each other so it was great to be able to talk as normal to them and not have to think about pronouncing your "th's. The next session was a whole group PA based session called "Performance Backwards" and it was based around the What It Takes To Win model and was led by Stafford Murray and Chris White.
When they brought us through the WITTW model it was broken down into "the what", "the why", "the how". The what being the performance question and the factors which may determine this, the why being that it enables us to understand our interventions, promotes a performance mind-set and defines the destinations rather than a step-by-step process and the how incorporates capturing existing coach knowledge, adding to this by the use of science and analysis and then challenging the question where appropriate.
They then explained some examples of how they had used this model in both Squash and Cycling ultimately creating performance profiles within their sports. Following on from this was a "Core and Situational Values" session ran by Dr. Kate Hays (EIS Head of Service for Psychology), I heard in advance that this was mainly aimed towards the psychology people so I decided to double the intake of caffeine and keep a sneaky stash of biscuits in my pocket. It turned out to be yet another excellent session, while at some stages it got a bit too "psych" for me it was always relatable. Dr. Hays spoke about the core values within the EIS, words such as collaboration, innovation, excellence and how they can be transferred across all disciplines and are a detrimental part of the WITTW model when working towards that common goal.
Our second discipline specific session revolved around the knowledge, skills and experience to be a world leading analyst, within this we were given 3 group tasks. For task 1, Julia Wells played a tough but fair high performance coach who was preparing for the U23 Canoeing Championship in Augsburg, Germany and we had to brainstorm what we would need for pre-comp, in-comp and post-comp analysis and also what hardware would we need to be able to provide such a service. Task 2 was taken by Steve Evans and the aim was to identify potential medalists in Badminton based on a performance funnel using world rankings. Steve had already created a database like this so it was great to be able to see the final product and how best to implement and feedback to a coach about young athletes who are currently showing signs of medal potential at future Olympics based on the data available to you. We then focused on the behaviors, skills, knowledge and experience of a world leading analyst. This was another group task where we had to create a list of attributes we felt were critical for the role and then select our most important 5 in each category (behaviours/skills/knowledge & experience).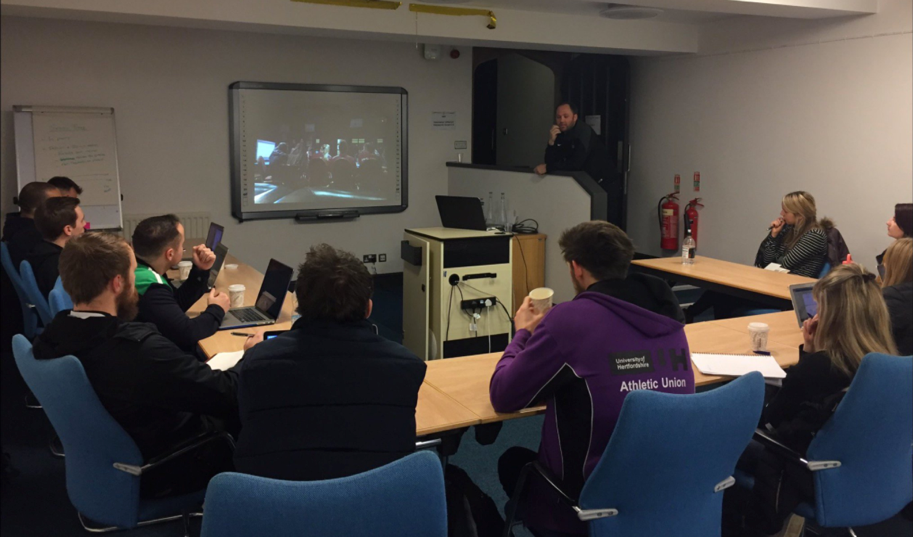 Each group then called out there 5 attributes and each individual was given £10 (very generous) to spend on whatever attributes they placed a greater emphasis on e.g. £3 on data visualisation, £2 on diligent, £5 on applied experience. At the end of it all we were each given 2/3 postcards and we had to choose 2/3 attributes that we would like to improve on over the next year. Overall this was probably the best session of the weekend, the tasks with Julia and Steve were great for thinking on your feet and trying to condense everything into such a short space of time and then categorising the attributes at the end showed that you must bring a wide range of behaviours, skills, knowledge and experience in order to become a world leading analyst! The night ended with a quiz where our team were more focused on getting more drinks from the bar than probably the quiz itself but Steve was our talisman and got us out of a few sticky situations, if it was a quiz of just charades I think maybe we would've taken 1st prize.
Sunday…
The Sunday blues were well an truly upon us as all staggered into Ford Hall to hand over our room keys etc. and shuffle down to the classroom for our third and final discipline specific session titled "Landing the Message – the Art of PA!". Throughout this workshop led by Chris White and Steve Evans they constantly reiterated getting the message across to the right people so it lands, which simply means getting the message across to coaches, providing feedback using science and data visualisation. We discussed the different forms of feedback and what to know about the individual or team you're feeding back to e.g. how long is the meeting, is it general or targeted and what is the outcome. Data visualisation was a massive part of landing the message and Chris gave a few examples of how it can and can't work, sometimes getting the basics across is more than enough. We moved through some examples of data visualisation and I found myself struggling to gain any sort of insight out of the first couple and judging by the silence in the room I'd imagine many others did too but as we went on it became more simplified and the message was very clearly coming across. Chris made the point that when trying to make your data more visual for athletes and coaches ask yourself 2 simple things…1: what is the purpose? 2: what is the intent? from this you can then paint the best picture possible.
Overall I thought the weekend was brilliant, not only were the whole group sessions and discipline specific sessions very intriguing and insightful they were always relatable to a scenario you have faced before and will more than likely face in the future. Being in a room surrounded by people on the same journey as you is a very powerful place, the contacts I made over the weekend and ideas I got from others I'm sure will change my thought process and implementation of analysis systems in the future. I'd like to take this time to thank all of the EIS staff and specifically the PA coordinators (Chris White, Julia Wells and Steve Evans) for sharing all of their experiences and for never making anyone feel like they were out of their depth. For anyone looking to gain an insight into how and why the EIS are leading the way in areas such as PA and many others I would highly recommend applying for the course in 2017/2018.
Thanks for reading!
Ciarán 🙂
My name is Ciarán Toner, I'm currently working as a performance analyst with Dublin GAA and Basketball Ireland. My main interests include data visualisation, the integration of analysis systems in a high performance environment and the analyst/coach relationship. I'm a recent graduate of the MSc in Sport Performance Analysis from the Institute of Technology, Carlow. Feel free to contact me on ciaran_toner@hotmail.com if you have any questions.