This piece was originally published (Jan 2015) in An Expert's Guide to Performance Analysis, which you can download for free. A big thanks to Joe for his time. You can follow him on twitter here; @maidenj7
Joe: First of all thanks Rob for the opportunity to write this, I've been a keen follower of the videoanalyst.com and have always found the site incredibly useful for analysis ideas and information prior to and during my time at Hampshire. Im always looking to improve as an analyst and hopefully this will be able to give an insight into how analysis can play a part in First Class Cricket.
Rob: Can you give me an idea of why you wanted to be analyst?
Joe: I used to play a lot of cricket when I was younger and I was a part of Gloucestershire CCC age group squads from the age of 11. From 15 to 18 I was lucky enough to get into the Gloucestershire Fast Bowling Academy which allowed me to be in and around the professional staff and gave me the opportunity to see what takes place in that elite environment. During my time there I was very interested in how all areas of the support staff contributed towards improving performance.
The idea of becoming an analyst didn't really occur until I was at university. I knew that my university (UWIC, now Cardiff Met) was renowned for its performance analysis set up, so chose to explore that as a module in my 2nd year. I then took analysis into my 3rd year and finished university having completed my dissertation in the analysis field. The work through university and seeing how analysis contributed in elite sport then led to my desire to become a performance analyst.
Rob: What sort of route did you take to end up at Hampshire (College – , coaching background, work experience etc…)
Joe: Upon leaving university I was at the crossroads where a lot of aspiring analysts are often found. I knew I wanted a career in analysis, but was unsure how to get there and was unsure on the amount of opportunities in which to do so. I identified early on that I wanted to work in cricket as that was a large chunk of my childhood and I wanted that to continue. If I didn't make it as a player, I wanted to still be involved so that took me down the coaching route. I worked as a cricket coach during my university holidays for a local company and at the same time completed my Level 1 and Level 2 coaching qualifications. During this time I was always looking for opportunities to do analysis and it was after university that I got a chance. One of our coaches at Gloucestershire was going overseas on an International tour and had asked me if I wanted to do some general statistics in preparation for the grounds they would play at and the opposition they may face. During the tour I did little bits of analysis here and there and sent them out to him.
That was my first experience of conducting my own analysis at an elite level and after that I sought out a job working in analysis in cricket. I spoke a lot to the performance analyst at Gloucestershire and varying other county analysts in order to see how analysis was developing and whether or not there were opportunities for someone like myself to get in. Unfortunately it was clear that each county had 1 analyst and unless they left there weren't any full time opportunities to get my hands on.
At that point I decided to bide my time, and went to Australia for 6 months travelling. Whilst I was in Australia I checked videoanalyst.com and saw that Hampshire had a vacancy. I knew I was on the other side of the world, but through the experience I had built up and the contacts I had made I thought I would give it a shot. I applied with the understanding that me being on the other side of the world probably wasn't the ideal scenario for them, but completed the interview process via Skype and was asked to fly back to start my role, and here I am!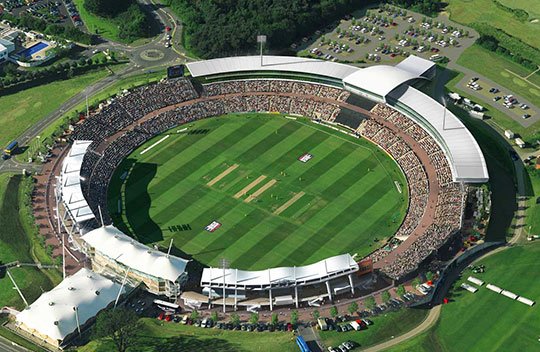 Rob: What's the analysis structure like in Hampshire? Are you the only analysts or is there a team of people?
The analysis structure at Hampshire prior to my arrival was 1 person who was responsible for coding all of the home games. The club made a decision to make the role more prominent and made it full time. In my first season it was only me, however the role had changed so now we expanded into not just coding the home games which is a requirement for the ECB, but now I was in charge of analysis team meetings prior to games across all formats and any other work myself or the coaching staff saw fit to complete in order to improve our chances of success.
From my point of view it was a very successful first season in analysis and Hampshire as we won County Championship Division 2 (which we highlighted as a goal at the start of the season) and we reached T20 Finals Day for the 6th year in a row. On the back of that success we have now expanded our analysis department and we now have an intern for the 2015 season who will assist with the coding of games and data collection which will allow us to expand the areas we can analyse.
Rob: It would seem to me that the TV stats in Cricket are very limited in terms of evaluating players – without giving away any secrets do you guys look at metrics that the general public maybe wouldn't be aware of?
Joe: I would agree with that point. One of the things I found from watching a lot of cricket growing up was that the 'TV Stats' aren't always a true reflection of individual performances. A lot of the stats shown on TV are average, strike rate, economy etc. based built up over a playing career.  As an analyst I find them to be useful for comparisons to our own players, but only in certain contexts. I think averages; strike rates & economy's can be very valuable when used on the right scale.
We try and keep our database as up-to-date as possible and any information we give to the players will be relevant from the past couple of seasons in relation to the game. For instance if we are looking at an opposition player, who's average in T20 cricket is 30 at a strike rate of 130, we want to look deeper into that and find an area we can capitalise on. We will look at his performance at home and away; strike rates against a variety of types of bowling in different periods of the game in order to create a plan to decrease his effectiveness.
My 'mantra' as an analyst is always to look deeper than the original stats suggest. There is a vast amount of data available in cricket, and its important to pin point the areas that you feel will impact on your own and opposition performances the most. I've been very lucky to come into a club where the coaching staff have been very supportive and have given me scope to make my own decisions on what we look at and how we go about it and I think that during last season it allowed me to explore a lot more metrics and trends that the public wouldn't see on their TV screens.
Rob: Of all the sports that could learn directly from Moneyball it should be cricket – do you think there is a big difference between what is collected now and what might have been collected in previous years? Will we be reading about a Bill James of cricket in a few years? 
As the 2014 season was my first in cricket analysis it would be difficult to tell what was previously collected however I do believe that all the statistical data that is collected now would have been available for a wide range of years. From reading Moneyball I firmly believe that it is very transferrable to cricket. I think that it will take time to come up with a system that will accurately measure the value of a player and their worth to a team, but that is definitely something I and im sure other counties are exploring. The key is finding the correct KPI's to evaluate player performances.
As in Baseball and previously mentioned the vast amount of available data in cricket makes it difficult to pin point the key areas to look at, and I think it will take a bit of trial and error to work out the metrics that will create that 'system'. I think for us to hear about a Bill James of cricket it would be dependent on the amount of input the analyst would have in a coaching and club set up. As I said I've been lucky in a sense that I've been trusted to go and do my own analysis and would like to think that the coaches trust the information I put across to them and the players, as they are what we use in our game preparation. If an analyst had that kind of input into transfer decisions and signings then I see no reason why in a couple of years cricket couldn't find its very own Bill James.
Part 2 will be published tomorrow; where Joe talks us through the typical game day set-up and offers some advice to aspiring analysts.