Guest Blog Post by Laban Scott Libby
Having read a recent blog by Chris Anderson, on his brilliant football statistics blog 'Soccer By The Numbers', comparing the attacking and defensive performances of each Premier League side, I was inspired to make my first foray into blog-dom.
Following the appointment of Mark Hughes as manager, there has been much talk in the last few days about QPR and their hunt for players in order to avoid relegation. Links have been made with numerous defenders, including Alex and Christopher Samba, with QPR requiring reinforcements to improve their defensive line. This is illustrated by the following graph from Chris' defensive performance benchmarking (data up to and incl Jan 4). QPR appear in the top-right quadrant, reflecting their concession of both shots and goals in large numbers.
It is, however, the benchmarking of QPR's attacking prowess which interests me most. Rangers have been linked with a number of Premier League strikers such as Darren Bent, Andy Johnson and Bobby Zamora, since Hughes took charge. The reasoning behind this is clear – QPR have been woeful at converting chances to goals. If Chairman Tony Fernandes' aim for this season is to consolidate their position in the Premier League, then QPR's creation of the 10th most chances in the league suits them well. However, as shown in the graph below from Chris' attacking performance benchmarking blog (data up to and incl Jan 4), they remain in the depths of the league when it comes to turning those shots into goals (Liverpool's equal tendency to squander chances is presumably a major factor in their failure to break into the Top 5).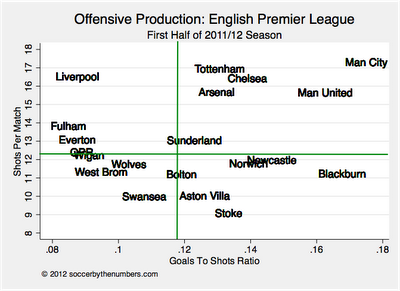 In light of this, I decided to take a look at the possible striking targets that QPR could recruit this month, by modifying some of the wealth of statistics made available by WhoScored.com – provided by Opta I believe. The ability to convert shots into goals this season is QPR's obvious attacking deficiency. Therefore, the most appropriate way to assess potential Rangers recruits should be on the basis of their Chance Conversion Rates to date this season – calculated as the percentage of shots taken from which they have managed to score (data up to and incl Jan 12).
Who Should QPR Sign?
With proven Premier League pedigree often advocate as a necessity in a relegation battle, I limited this search to current Premier League strikers only – Federico Macheda, QPR's new loan signing, does not quite fit this profile just yet. I reduced the pool further by making the bold assumption that, even with a new cash impetus, they would be unable to attract any stars from the current top-6 teams (Man City, Man United, Tottenham, Chelsea, Arsenal and Liverpool if you need reminding).
The information available was only for players who have more total appearances (Starts + Sub) than the average number of appearances in the Premier League (according to WhoScored.com this is 12), filtering out those players who have not played regularly enough to feature in 60% of the matches so far this season – providing me with 34 players. With QPR's reliance on 34-year-old Heidar Helgusson evident (he has scored 7 of their 19 goals so far), it is clear that they require someone who can relieve some of this goal-scoring burden. I therefore excluded those who have failed to score 5 or more goals so far this season, leaving me with the following 14 striking options (plus QPR's Jay Bothroyd):
I'm afraid it is not the prettiest data-presentation you are likely to see, but I have highlighted the Chance Conversion % column in which the players are ranked – but I have left the other information in for clarity. What immediately jumps out is that 39-year-old Yakubu sits top of the pile – he is clearly the main reason for Blackburn's anomalous position in the attacking benchmarking above. Helgusson rates fairly well in seventh, but is clearly in need of an adequate partner – Jay Bothroyd languishes in 28th position, with a Chance Conversion rate of only 6.5%.
With Macheda not featuring, the remaining potentials include Premier League new boys such as Shane Long, Danny Graham, Grant Holt and Steve Morison, as well as the new king of St James', Demba Ba. With a mooted buy-out clause of under £10m, Ba may represent a great bet if Hughes can beat his rivals to get his signature. Darren Bent, linked with QPR in the media, is up near the top of the list, but may not represent the best value for money having been sold for £18m only a year ago. Steven Fletcher, now a veteran of several survival campaigns with Wolves, could be a cheaper remedy for Rangers' problems as one of only three targets in the list to average more than a goal every two appearances. Conspicuous by their absence are two other strikers publicly linked with Rangers, Andy Johnson and Bobby Zamora. They have scored only three and four goals respectively, both with Chance Conversion rates under 15%.
With various confounding factors, such as wage-demands and finding a club willing to sell at this stage of the season, there will be many influences on QPR's search for a striker. Chance Conversion is just one statistic – and clearly no decision should ever be made based on one sole statistic. Nevertheless, it could offer some key insight into the potential solutions to QPR's goal-scoring inadequacies – and may even help Queen's Park Rangers avoid the drop. (Let's see who QPR sign??)
A big thanks To Laban for submitting this article. If you have something you would like to publish on the blog just drop me an email.