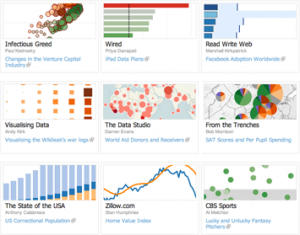 Ever heard of Business Intelligence Tools? If not it's time to get googling as they are/will be common place in performance analysis very soon. As Big Data becomes a buzz word around the business world it is having some great knock-on effects for Analysts. Business Intelligent (BI) tools are one of the main advantages. BI tools are a type of application software designed to retrieve, analyze and report data – something analysts have always had to do – but now its getting easier.
Tableau
Commercial software companies are designing software specifically for the purpose of making it easier to interpret data. I have only used a handful of these – so I would encourage you all to explore the options that are best for you. But the I use most often is Tableau. They have various levels of products but if you're just looking to explore a good place to start is with their free product Tableau Public (If you want some data to mess around with – don't forget Man City and their big data release a few months ago). It is a free-to-use program that offers analytic capability, with the limitations that visualizations are limited to 100K rows of data and can only be saved to the Tableau Public servers – but hey, it's free and a great place to start learning more.
Video
Here is a video that summarizes Tableau and all it's features.