Following on from the discussion last week on twitter about paid/unpaid internships in performance analysis, Paul Brand (Head of Performance Analysis at Blackburn Rovers) wanted to offer his thoughts on the Blackburn's Internship Programme. I sat down with him earlier this week and asked him to explain the scheme at Blackburn and to get an idea of how successful or otherwise it has been.
RC: How long have you been running your internship programme?
PB: We are now entering our 4th season of utilising interns to enhance our First Team Performance Analysis Department here at Blackburn Rovers Football Club.
RC: How many interns have you had in that time?
PB: Over the last 3-4 years, we've had 8 interns in total work within the department. For us, having this internship agreement in place has allowed us to expand the department from 3 people to 5 and as a result, provide a more comprehensive analysis service to the staff and players at Blackburn Rovers.
Of the 8 interns that have worked in the department, 6 have now left the club and we have 2 currently in place.
RC: Can you give me an idea of your internship programme this season?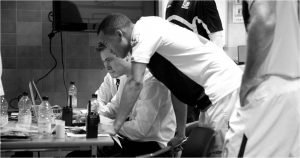 PB: Our current programme is a 2-year internship. The intern works the first season without payment (no expenses provided) with a payment then provided in the second season. I won't disclose the figure of this 2nd season payment but while it isn't a large amount of money; we feel it strikes the correct balance in rewarding the intern, sustaining them personally through their second season and ensuring that we can keep these talented young analysts for more than one season.  In the first 2 seasons of utilising interns, we did provide expenses as it was only a 1-season agreement. What we found was that once the club were providing expenses, it was hard thereafter to provide an additional payment to a 2nd season intern. The reason to provide nothing in the way of payment/expenses in the first season and then providing a considerable payment in the second season came as a result of this. This agreement is working for us and both the past and current interns have been happy with these agreements.
RC: What type of hours are the interns required to work?
PB: When recruiting, we first of all communicate this plan with any potential intern thus making sure that anyone willing to commit themselves to our club for 2 years is fully aware of the financial rewards. The interns are provided with breakfast and lunch free of charge and do receive initialled training kit and all of the relevant clothing required to work outside and travel with the team. They are generally required to work Mon-Fri (8:30am-5:00pm) although we do utilise them at weekends on match days, also sometimes late at night for both first team and reserve team fixtures. Our interns have been required to travel with the teams, stay in the hotels and be completely responsible for the entire analysis process whilst away.
We try and strike a balance of providing them with all of the experience possible during the 2 years whilst allowing flexibility in days/time off to work and earn themselves money from their part-time jobs.
RC: What responsibility does a 2nd year intern have?
PB: Our current 2nd year intern is assigned to our U21 (Reserve) team. Allowing the intern this level of responsibility with one team is essential in improving their skills and experience to a level that will then make them a top candidate when applying for full time positions once the 2 years are up. This point has recently been proven with the intern, who covered our U21 team last year, having recently being offered several full time and salaried positions during the close season.
RC: Are many of the interns you've had over the last 3/4 years  still working as Performance Analysts?
PB: Of the 8 interns who have worked in the department, apart from the 2 we currently have (one first year and one second year), 5 of the other 6 are now currently full-time, salaried employees within Premier League and Championship clubs with the other currently completing a Masters degree at University. It's worth noting that all of these interns only completed one season as an intern and therefore never received any payment from the club with 5 of the 6 receiving travel expenses only.
RC: That's a great conversion rate.
PB: This level of success reflects well on both the individuals and the club. This level of employment rate coming out of our internship shows that although none of these interns received any payment during their time here, what they learned and the experience they gained has been crucial in securing them full time employment within professional football clubs.
RC: Have you any other thoughts on the paid v's unpaid discussion?
PB: If as a club we were in the position to provide 5 salaries and therefore have 5, full time, salaried members of staff within the department then this would be the ideal scenario. That isn't possible however hence the reason to utilise interns. While I don't think its right to take advantage of people willing to work for little or no payment, what we provide here at Blackburn Rovers is an education and the experience to then gain employment within the industry. In my opinion, if an intern is to be utilised to the benefit of the club, then the relationship must be 2-way and an education, the relevant experience and also help finding full-time employment should be provided.